Prayer
Muniba, a young Muslim university student, was home for the summer. She had gone to visit some sisters one evening & the time passed quickly as each shared their various experiences of the past year.
 She ended up staying longer than she had planned. Continue reading →
Here are 30 practical ways to improve and benefit from our Salat:
Today we have indeed come to treat the Prayer (Salah) as something insignificant in our lives. Very often we hear our elders say, "I will start praying when the time comes." Others, specially the younger Muslims, do not find much comfort, and joy in their Prayers. Due to our treatment of Prayer as a burden, our love and passion for the Prayer has vanished. Our hearts have become hardened, and we have become a depressed and defeated people. As a result, Continue reading →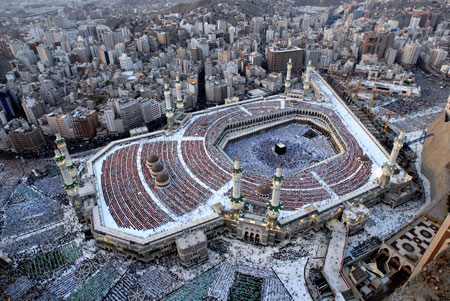 For many of us, waking up for Fajr can be difficult and burdensome however, there are some virtues that we fail to realise .   
1) Oath by Fajr.
As Muslims, we are not allowed to take oaths by anyone other than Allah
But Allah, the Most Majestic can take an oath by anything he wishes
In the beginning of Surah Fajr, the 89th Chapter of the Qur'an, Allah begins the Surah by swearing upon the dawn (Fajr).
"By the dawn"
Every oath made by Allah in the Qur'an emphasises its importance and likewise, Allah has emphasised the time of Fajr
    The two Suna.ا Rakahs of Fajr prayer are better than the entire world
2) In the Hadith of Aisha (May Allah be pleased with him), the Prophet (Peace be upon him) said"Two Rakahs of prayer before the Fajr (Fardh) prayer are better than the world and whatever is in it"
Our prophet always prayed these two Rakahs Sunah prayers of Fajr and never missed them including whilst travelling even though the concession was there to miss the Sunnah prayers. Continue reading →
Salaah (Praying) is one of the main pillars of this religion, it is the link between the servant and his Lord. The Prophet, Peace Be upon Him, said about Salaah: "The first thing of your religion that you will lose is trusteeship, and the last thing that you will lose of your religion is salaah." The scholars have unanimously agreed that the one who neglects Salaah is Kaafir if he does it deliberately, denying that it is obligatory and he is gone beyond the pale of Islam. He is considered to be a murtadd (apostate) who is to be given three days to repent – if he does not, he is to be executed for his apostasy, as unanimously agreed by scholars. As for the one who does not deny that it is obligatory, but he neglects it because of laziness, for example, then he is guilty of a major sin (kabeerah), but he is not considered to be beyond the pale of Islam. The proof is the saying of the Most High (Allah S.W.T), "Indeed, Allah does not forgive association with Him, but He forgives what is less than that for whom He wills. And he who associates others with Allah has certainly fabricated a tremendous sin." (An-Nisaa: 47). 'Itban bin Malik (May Allah be pleased with him) reported that the Prophet, Peace Be upon Him said: "…Do you not know that he said: 'La ilaha illallah (there is no deity worthy of worship except Allah),' seeking His Pleasure. Allah has made the fire of Hell unlawful for him who affirms that none has the right to be worshipped but Allah." Continue reading →
Salatu al-Witr is a prayer that can be performed at the time after isha'a (night-time prayer) till fajr (dawn prayer) to seek closeness to Almighty Allah, it is a confirmed Sunnah from the Prophet, Peace Be upon Him, but the one who does not perform witr prayer is not considered a sinner, but it is disliked not to perform it. The Prophet, Peace Be upon Him, said: "Allah the Exalted has given you an extra prayer which is better for you than the red camels (i.e. high breed camels). This is the witr which Allah has appointed for you between the night prayer and the daybreak." (narrated by Imam Ahmed, Abdu Dawoud and Tirmidhi). The Prophet, Peace Be upon Him, forbade repeating the witr prayer in one night when He (PBUH) said: "There are no two witrs during one night" (Sunan Abi Dawoud). Continue reading →
Prayer holds a very important place in the religion of Islam.  It is the second pillar of faith and the act of ritual prayer is performed five times every day.  There is great power entrenched in the postures of prayer not the least of which is that it establishes and reinforces our connection to God.  This is a connection that God Himself established when he created human beings.  Our ancestor Adam was responsible for teaching his family how to worship God in the correct way which included praying.
All the prophets and messengers God sent to the nations on earth spread the same message, "O my people, worship God, you have no other God but Him" (Quran 11:50).  They all spoke words of wisdom, guiding the people and reminding them that God is One, alone, without partners, sons or daughters.  Most of the prophets mentioned in the Quran are recognisable to people of the Christian and Jewish faiths and they all prayed in much the same way that Muslims pray today.  Continue reading →
'Umar (RA) became unconscious after he was stabbed, and according to Al Miswar bin Makhramah, it was said: "Nothing would wake him up except the call to prayer, if he is still alive." They said to him, "The prayer has finished, O Chief of the Faithful!" He woke up and said, "The prayer, by Allah! Verily, there is no share in Islam for whoever abandons the prayer." He performed the prayer while his wound was bleeding. [Sifat as Safwah 2/131, As Siyar 5/220] Continue reading →
A number of people sent me queries concerning the correct opinion on praying salat al-janazah in absentia (on a person who is not present). The question was obviously relevant since people all over the world prayed salat al-janazah for Shaykh ibn Baz rahimahullah.
Before I briefly answer the question, I would like to mention the fact that this occurrence (that so many millions of people prayed overShaykh ibn Baz) is in and of itself an indication inshallah of the status and sincerity of the Shaykh. As some of the salaf said, "The criterion between the person of sunnah and the person of bid'ah is the janazah"; meaning that Allah azawajal blesses the scholar of the sunnah to have many people Continue reading →
Ibn 'Umar radiallahu 'anhu reported that Allah Messenger sallallahu 'alayhi wa sallam said, "Establish your lines straight, for indeed the angels pray in lines. Align your shoulders, close the gaps, yield your hands to your brothers, and do not leave any gaps for Shaytan. Whoever connects a line, Allah maintains him, and whoever breaks a line, Allah cuts him off." [Ahmad, Abu Dawud, an-Nasa'i and others. See Sahih ul-Jami' no. 1187]
Anyone who has prayed with different groups of people will probably have experienced the following situation: When you line up for Continue reading →