Dr.Naji-Bin-Waqdan
The Prophet's order to perform Hajj UT-TAMATTU
9. So when he wishes to make iHraam and is making Hajj-ul-Qirran, having brought the sacrificial animal with him, he should say: labbaikallaahumma bi-hajjah wa umrah
(Here I am O Allah making Hajj and `Umraah). So if he hasn't brought the sacrificial animal – and that is better – then he says talbiyyah for `Umrah only and that he must do, saying labbaikallaahumma bi-`umrah. Continue reading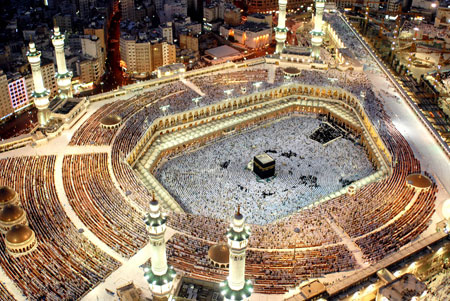 The Prophet sallallahu 'alayhi wa sallam said, "He who performs Hajj and does not speak obscenely or commit evil will return clean from his sins just as the day his mother gave birth to him." [Sahih al-Bukhari, vol. 2, p. 347, no. 596] If he did so, his Hajj would be righteous (mabrur). Allah's Messenger sallallahu 'alayhi wa sallam said, "The righteous hajj has no lesser reward than Jannah (Paradise)." [Sahih Muslim, vol. 2, p. 680, no. 3127]
Maintaining Taqwa'
The pilgrim must have taqwa' (fear and reverence of Allah). He must strive to avoid what He forbade. [Refer to al-Qur'an 2:197]
The Prophet sallallahu 'alayhi wa sallam said, "He who performs Hajj and does not speak obscenely or commit evil will return clean from his sins just as the day his mother gave birth to him." [Sahih al-Bukhari, vol. 2, p. 347, no. 596] If he did so, his Hajj would be righteous (mabrur). Allah's Messenger sallallahu 'alayhi wa sallam said, "The righteous hajj has no lesser reward than Jannah (Paradise)." [Sahih Muslim, vol. 2, p. 680, no. 3127]
Thus, it is necessary to warn against some violations that many commit, either ignorantly or erroneously. Continue reading →
And when you have fulfilled your sacred duties remember Allah as you remember your forefathers or with deeper reverence. There are some who say: 'Lord, give us good in this world. ' He shall have no share in the Everlasting Life.
[2.201] But there are others who say: 'Lord, give us a merit in the world and good in the Everlasting Life, and save us from the punishment of the Fire. '
[2.202] These shall have a share of what they have earned. Swift is the reckoning of Allah.
[2.203] Remember Allah during counted days. Whosoever hastens on in two days, no sin shall be on him. And if any delay, no sin shall be on him, for he who wardsoff (evil). And fear Allah, and know that you shall be assembled unto Him.
[2.204] There is he whose sayings pleases you in this worldly life and uses Allah as a witness for what is in his heart, but he is most stubborn in adversary.
[2.205] No sooner does he leave than he hastens about the earth to corrupt there and destroy crops and cattle. Allah does not love corruption.
[2.206] When it is said to him: 'Fear Allah, ' egotism takes him in his sin. Gehenna (Hell) shall be enough for him. How evil a cradling!
[2.207] But there are among people he who would give away his life desiring the Pleasure of Allah. Allah is Gentle to His worshipers.
[2.208] Believers, all of you, enter the peace and do not follow in satan's footsteps; he is a clear enemy to you.
[2.209] If you lapse back after the clear verses that have come to you, know that Allah is the Almighty, the Wise.
[2.210] Are they waiting for Allah to come to them in the shadows of the clouds with the angels! Their matter will have been settled then. To Allah shall all things return.
[2.211] Ask the Children of Israel how many clear signs We have given them. Whoever changes the Favor of Allah after it has come to him, Allah is Firm in inflicting the punishment.
[2.212] For those who disbelieve, the worldly life is decked with all manner of decorations. They scoff at those who believe, but the cautious shall be above them on the Day of Resurrection. Allah gives without count to whom He will. Continue reading →
On the authority of Abū Ruqayyah, Tameem bin Aus ad-Dāri, that the Prophet(صلى الله عليه وسلم) said:"Religion is sincerity." 41 We said, "To whom?" He said, "To Allah and to His Book, to His Messenger, and to the leaders of Muslims and their common people."(Narrated by Muslim)"Religion is sincerity" has been interpreted by some to mean that they are one in the same, i.e., that sincerity, as described in this ḥadīth, may be called religion. But the consensus among scholars is that it is like the Prophet's statement, "The ḥajj is `Arafah,"meaning that the latter is the larger or most important part of the former. The following examples have been given for the various forms of sincerity mentioned by Allah's Messenger (صلى الله عليه وسلم):1) To Allah (subḥānahu wa taʽālā): Belief in Him, rejection of shirk42 and of distortions concerning His attributes, describing Him with all the attributes of perfection and majesty and disassociating Him from any imperfection or similarity to His creation,obedience to Him and avoidance of disobedience, striving against those who oppose belief in Him or advocate shirk, loving because of Him and hating because
of Him, recognition of and gratitude for His favors, purity of intention in every matter, inviting others to all of the aforementioned and encouraging it while being courteous to all people.43
Question: Is the fasting of the six days (of Shawwaal) a must after the month of Ramadhaan immediately after the day of 'eed, or is it permissible (to do so) after 'eed by (a number of) days in the month of Shawwaal or not?
Response: It is not a must for him to fast immediately after 'eed al-fitr, rather it is permissible to begin fasting after 'eed by a day or (a number of) days. And (also) to fast them continuously or intermittently in the month of Shawwaal according to that which is easy for him. And the issue is quite open in this matter, and it is not obligatory, rather it is a sunnah.
Question: What is the ruling regarding the congregational takbeer for the `Eed prayer.
Response: It has been legislated for a person to make takbeer from his home to the musallaa (area designated for the `Eed prayer), and whilst at the musallaa he should audibly (continue to) do so, each person unto himself, such that the place vibrates with the (sound of the) takbeer. As for them mutually agreeing to start and finish together (in congregation), then there is nothing (evidence) to indicate the permissibility of the congregational takbeer, and it has not been legislated.
Shaykh 'Abdur-Razzaaq 'Afeefee
Fataawa wa Rasaa.il Shaykh 'Abdur-Razzaaq 'Afeefee – Volume 1, Page 187-188, Fatwa No.14. fatwaonline.com
Praise be to Allaah.
Eid Prayer consists of two Rak'ahs
The Eid prayer is one where the imam attends and leads the people in praying two rak'ahs. 'Umar (may Allaah be pleased with him) said: "The prayer of al-Fitr is two rak'ahs and the prayer of al-Adha is two rak'ahs, complete and not shortened, on the tongue of your Prophet, and the one who fabricates lies is doomed." Narrated by al-Nasaa'i, 1420 and Ibn Khuzaymah. Classed as saheeh by al-Albaani in Saheeh al-Nasaa'i. Continue reading →
More than a billion Muslims around the world observe Ramadan ("month of blessing"), with prayer, fasting and charity. They celebrate the end of Ramadan with a three-day festival, called Eid al-Fitr, which means "breaking of the fast." It's one of the most important holidays in Islam. (Islam is the name of the religion practiced by Muslims.) During Eid al-Fitr, people dress in their finest clothes, adorn their homes with lights and decorations, give treats to children and visit with friends and family.In the early morning in Eid AlFitr and after fajr(dawn prayer)muslims go to Continue reading →