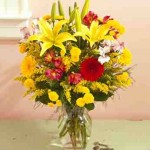 Countries do prosper except with the help of its citizens and religion does not gain strength except with its followers. When the followers of Islaam will stand up for it, Allaah will help them no matter how many enemies they have.
Allaah Ta'ala says: "O believers, if you help Allaah's cause, he will help you and make your feet firm (against your enemies) and those who disbelieved, woe unto them and their actions are in vain." [47:7,8]
If Deen (religion) cannot be strong except with it's followers, then it is necessary for us, the followers of Islam and it's flag-bearers, that we firstly strengthen ourselves so that we may become worthy of leadership and guidance. It is imperative that we learn from the book of Allah (The Qur'an) and the Sunnah of His Rasool (Messenger) sallallaahu 'alayhi wa sallam which will equip us for speech, action, guiding and inviting. 
Then it is neccesary for us to put into practice what we have learnt from the Qur'an and Sunnah, on the basis of Iman (faith), conviction and sincerity our character should not be one of speech only because if speech is not backed up by action, it's effect will not extend beyond the speaker and this speech will have an opposite effect: "O believers, why do you say that which you do not do. It is most hateful in the sight of Allaah that you say that which you do not practice." [61:2-3]
It is most appropriate for us that we start at the beginning and ponder over our youth and their thoughts and actions, so that we may increase those which are good and correct those who are incorrect because the youth of today are the men and women of tomorrow and they are the foundation on which a future nation will be built. It is for this reason that the text of the Sharee'ah (Islamic Law) has encouraged giving the youth due consideration and directing them to which is good and correct. They are the basis of the nation of which it's future will be built and if their reformation is grounded upon the strong pillars of the Deen (Religion) and character, there will be a brilliant future for this nation, if Allah wills. Imanway.com