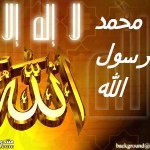 "Peace" (Salam) is mentioned many times in the Holy Quran and it is certainly the most sought after condition for the life of every human on earth.
 "The Peace" (As-Salam) is also one of the attributes which Allah has named Himself by in the Holy Quran:
 "He is Allah beside Whom there is none worthy of worship, The King, The Holy, The Peace, The Watcher, The All Mighty, The Compeller, The Supreme. Glory be to Allah! He is above all that they try to associate with Him as partners." [Holy Quran 59:23]
 We are all striving to achieve some sort of peace and tranquility in our lives. And providing that the other four conditions have been met, then this is the inevitable result of the one who is truly seeking Allah.
So as soon as he or she has totally surrendered and submitted and obeyed Allah, in complete sincerity and as a result has achieved total and complete peace in this life and in the next.
 It does not imply that they will not be tested however. And this must be quickly understood. The one whom Allah loves, He tests. The person who will be successful in this life and the Next Life will be tested as Allah has said:
 "Do they think that they will be left alone on saying, 'We believe and that they will not be tested'? For sure we will test them as we have tested those who came before them, to show (them) the truthful of the honest and the liars in their falsehood."
[Quran 29:2-3]
 Once we humble ourselves, rid ourselves of our egoism and submit totally to Allah, and to Him exclusively, in faith and in action, we will surely feel peace in our hearts. Establishing peace in our hearts will bring about peace in our external conduct as well. Islam tomorrow.com